Pour Your Heart Out: I'm a Bad Mom
Today I'm linking up with
Things I Can't Say
to Pour my Heart Out. Check out her link and if you comment on any of the link ups remember rule #1 - be respectful!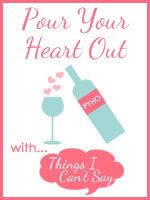 When did my dreams become more important than my sons future? I can't really answer that, all I know is that at some point it happened and I feel like the worst mom in the world.
Zach went to private school for K and 1st, I homeschooled him for 2nd and 3rd, and last year I put him in public school. It was during that time I needed something do to with myself, so I went back to school to follow my dream of becoming a teacher. But I feel guilty every day.
The education system here (both private and public) are terrible. And that's the nicest thing I can think to say about them. We had our issues when we homeschooled, but nothing we couldn't (or didn't) sort out.
He is really enjoying being in "regular" school, but it's easy to see why. He's "one of the brightest" in his grade. Kills the standardized tests (not that I put any stock in those), and has his few select friends. I've been informed that even though he rarely pays attention he always knows the answer.
But he's not learning anything new. All I heard last year was how "great" I did homeschooling him. All I did was teach him what I thought he should be learning and needed to know to succeed. And the reality is no matter how involved you are - if the education is sub-standard there's not a whole lot you can do about it.
Now that he's started 5th grade, and I've spent some time with recent high school graduates (who don't know how to write papers or do simple math) I know he's being shorted. I want to give him every tool that I can to be successful - not just in SC but anywhere he chooses to go to college. And I want to keep my dream alive too.
That it agonizes me to make the call to quit school and go back to homeschooling shows how selfish and terrible I am as a mom.
Until next time ~ Kris