It's Tuesday!!
Tuesday means one thing - What's on my phone link-up d
ay! Jessica has a button now too which is so
freakin' cool
!
So, grab the button and link up here!! Think you don't have any cool pics on your pho
ne? That's O.K. - you know you have random, weird shots - and those are the ones we all love!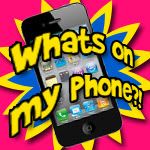 And now, without further ado - my offerings for the week...
The first guy probably looks familiar -
I have been helping decorate the 4th grade hall for Winter Wonderland
the tree and birds are new - great little artists and crafty teachers
I'm just the manual labor
Sunday, we were in the Christmas Parade here in town.
Before the parade started were trying to stay warm in the car
yes, we do bunny ears a lot in this family
because I DO have lame pictures this week
see, I told you it was o.k.
This was the temperature this morning
when I dropped Zach off at school
I'm pretty sure I still live in South Carolina....
I should have dusted my dash before snapping this shot
oh don't you love my MIchigan State phone skin?