Tuesday Phone Link Up
I so look forward to Tuesday's now! Which is weird, because other than this I got nothing on Tuesday - so thanks Jessica for making my life not so lame! So, what crap is on my phone this week? hmmmm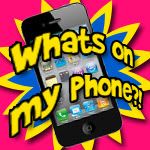 My little elfish niece
and her older brother
So these next two are going to need a back story. My phone is lame - but I was bored and figured out I could do kind of cool stuff in picture mode. Here are two shining examples of how non creative I am!
Why is my son 'talking' about hubster?
IDK 'kay? I'm pretty sure I could
figure out some more creative way to
use this....maybe
Yes, it is my shoe. And it's cool that I
can add a polaroid frame to pictures
but lame that I have to try and write
with just my finger. And yes, those
are
pink crocs
. Don't judge!
Sometimes I make random, obvious observations
and they go something like this
"Note to self - glue from a hot glue gun is hot"
This is why I make those statements
Our Cub Scout Pack collects and donates books
to the local library every year
this year we donated over 300
Your turn - grab that there button up there and have fun! And don't forget to check The Lowe Family News for the little linky tool!
Until next time ~ Kris