What's on My Phone?
The May 17th edition.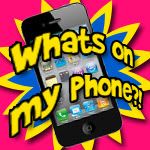 My niece hooked me up this week! Yep - we've got pictures of the kiddos again!!
sometimes you're just not ready to start the day
food is not just for the belly
but the face - oh I want to be the aunt who
pinches cheeks so bad!
She's not all cute and cuddles though
damn - wait til her first boyfriend sees this sucker!
The mama to the munchkins
she got her hair cut exactly like mine
but didn't know it.
It's a style this family looks good in apparently!
That's it for today! Come back on Thursday when I start embracing the camera again!
Until next time ~ Kris