What's on my Phone?
Oh, it's been far too long and I have a ton of pictures. I swore I wasn't going to sit down and do this until my paper was finished and now, it finally is. Not only finished but the required 14 copies are printed, stapled, and ready for class tomorrow. I do have to go finish some math though - but I'll do that later.
Grab a drink, a snack and whatever else you want because it's finally time for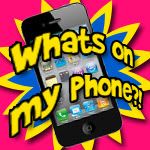 I'm starting with the beautiful Miss Emma
The beautiful Miss Emma and her beautiful mom
Kids sure can sleep the craziest ways!
I love the look on her face!
Next up is Mr. John Jr.
What an awesome smile!
"Daddy and Baby sleeping in a tree"
or on the couch
sleeping, that's the point here!
Is there not a time when we've all wanted to do this?
He asked for it - no, he literally did
my crazy son is the same way - thinks it's fun
I just think it's quiet!
Because it just tastes better when you steal it from
your sisters bowl!
Zach in his latest tie dye
and he can wear it to Scouts
He's very happy
This is some of the hail we received last night
yes, it left a big dent in my car
all the other vehicles managed to escape though
I think the one shaped like a star is pretty cool
I was having trouble with math
surprise NOT
so I sent this picture to my niece
who got with my other niece
and together my young chickees helped me
figure out what the hell was going on
Those girls rock!
This is a picture I took of our wedding picture
My dear friend asked to see the whole thing
when she saw part of it in a picture I
posted. It's hard to tell but we cleaned up
real good for a couple grease monkeys!
And there you have it, the extended version of what's on my phone! Now that I'm all caught up I guess I should go do my math. Three weeks and this semester is over!
Until next time ~ Kris