What's on My Phone? 3.15.11
I know, it's almost NOT Tuesday anymore! I think I'm going to make in the nick of time here on the east coast though!
Since Miss Jessica is taking a blogging break there is no link up this week - but my niece would flog me if I didn't post my phone pics. Why? Because all the pictures this week came from her (except two - and one of those came from my other niece!). So, without further ado (because I need to make that midnight deadline!), it's time for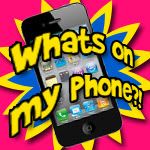 This is my other nieces tattoo in the works
it's not done yet - she will send me another
when it's finished. My nephew (yes, her brother)
is doing the work. That's family love and
trust guys!
Ms. Emma enjoying the AZ sunshine
Little Mr. John
he's got some eyelashes
(he gets those from his aunt!)
Mr. Matthew and Mommy
She looks like a baby too!
This one's been on my phone for a while
It's the only picture not from my nieces this week.
This is Mr. Gabe - he's my friends son
and he's cute as a freakin' button
but
his moms don't treat him right
They
force
him to wear
GREEN BAY
stuff.
Knowing Jen and Celina they probably hold him
down just to put the ugly shirt on him too
sheesh
- talk about treating kids badly
good thing he's so awesomely adorable that
people will overlook the shirt
Anytime Mr. Gabe you want to stop wearing the ugly
Green Bay
stuff you come talk to Miss Kris
I'll hook you up with some very awesome
Bears
shirts!
Until next time ~ Kris