What's on Kris' Phone 3.1.11
Damn - March
Really?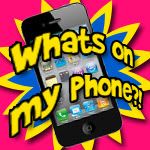 I know, it's been a while. But here I am again! You'd think I'd have had some smokin' pictures after being gone so long, but alas, that's not the case. Being sick and taking care of the sick limits the amount of cool picture taking!
But, here we go anyway....
Zach is trying to grow his hair out.
Which is fine, but he hates to comb it
so it always looks like this
whatev - he's too young for a girlfriend anyway
On March 19th our pack is having it's Pinewood Derby
We are also having a PowderPuff Derby
(for mom's and sisters)
I'm going to race a baby pink HMMWV
it's not quite done yet
Matthew
John
Emma
Because you know it's not a week on my phone without pictures of my niece and nephews!
Until next time ~ Kris