I'm not crazy
Well, maybe a little - but turns out I wasn't the only one having problems with blogger yesterday. Even though I may still seem crazy to all of you, at least I don't to me anymore! Today I can actually see my blog again which makes it much easier for me to actually preview a post!
Yesterday I was going to post my phone pictures, so I guess I'll do that today. Before Alicia kills me and such.
So, even though it's not Tuesday, here's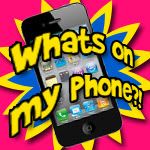 I was trying to get a picture of the horrible pollen
we've been having lately - didn't work so good
on the white car
My niece, Nena, made this cake for her daughters
7th birthday. Isn't she awesome? I wish she lived
closer - maybe she could have helped with the whole
Mario cake I needed for Zach's birthday!
Miss Emma and Mr John
Mr Matthew hanging out in every kids favorite
place - the magical cardboard box!
Miss Emma - I swear she's eating the favorite
pop tarts of the whole family
brown sugar cinnamon YUM!!
My little man outside the Legion
they are the sponsors for our
Cub Scout pack
Here he is again, in front of the Walk of Honor sign
We've been going to meetings here for three years
and this is the first time I thought to take a picture
Yeah, I'm lame like that!
OK so that's what was on my phone last week! Mrs Jessica is still on blogging hiatus, so no link. That's why I probably didn't feel so guilty about posting these on a day other than Tuesday!
Have a great week!
Until next time ~ Kris