What's on Kris' Phone 2.1.11
A month into 2011 already, hmm
and another side note - it seems like my pictures are turning into those little boxes with question marks
can anyone help me figure out what that's all about?
Now, onto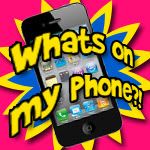 "Hey Kris, what kind of crap is on your phone this week?"
'I'm so glad you asked!'


this is the free book I got for joining a reading challenge this year
kind of awesome that it was free
kind of creepy cover
goldfish that Zach found in the box
he thought it was cool that they were baked together
and no - his finger isn't bruised
he had a run in with a marker at school
his nails could stand to be cut though
Call Grissom
'cuz I want to know what this bug is
they hang out by my garage
and make a loud crunching noise when you step on them
this is on the bathroom mirror at the University
really? We're college students, right?
that's what I thought
This cutie here is not my actual nephew
but he plays one on TV
No he doesn't
he's my friends son
and you'd think he couldn't be any cuter
but he could
if he were wearing a Bears shirt
THIS is my actual nephew
who is almost a month old
already? really?
geez
And there you have it - the crap that is on my phone this week!
Don't forget to link up with Jessica
you can use that brightly colored button at the top
visit some other phone photo addicts
and you know, be an enabler to their addiction
by leaving comments and stuff
Until next time ~ Kris