Meet Me on Monday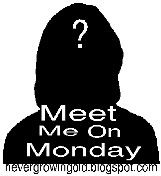 This cool little link up is hosted by Java at
Never Growing Old
. She asks the questions. We answer and get to know some fellow bloggers. Fun!
This weeks questions:
1. Did you watch the Superbowl?
2. What is the last book that you read?
3. What is your favorite kind of cake?
4. Do you snore?
5. Do you play an instrument?
My answers ~
1. Yes, I did watch the Superbowl. I didn't want to because Green Bay beat my Bears a couple weeks ago. But I did want to see the Black Eyed Peas and the commercials. Ah, at least the commercials didn't disappoint.
2. The last book I read was Breathless by Dean Koontz. I liked it even though the ending was a little weird.
3. Hmm my favorite kind of cake - I don't think I have a favorite. Um, if I had to actually pick I would probably say carrot cake with cream cheese frosting. *yummo*
4. I do snore. Loudly. So loudly that sometimes I wake myself up and I can't go to bed until after Erik has fallen asleep.
5. I used to play the flute. I quit in high school. Recently my son starting learning how to play the recorder in school and I can play that. Does that count??
Hook up with Java and meet some new people!
Until next time ~ Kris