What's on My Phone Tuesday
Yay! Jessica actually made the link up this week! So everyone is lucky enough to get to see the wonders that are on my phone this week.
I'm actually cheating because I only took two pictures (what can I say - we were being hermits this past week!) so I'm sharing a couple older ones that are actually on my phone. That counts - right? Of course it does....
So now it's time for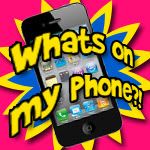 Zach doesn't play Guitar Hero - no one in this house plays Guitar Hero but me. However, Zach's Mario Plushes (as he calls them) do play Guitar Hero, just not for real
So, when I saw this mess at the bottom of the stairs I said "Zach, what are all these stuffed animals doing at the bottom of the stairs?" "Guarding the dungeon - weren't you listening?"
Um, apparently not - but they were good at their job - I saw no escapees
that purple "I love you" bear is the big meanie - watch out for him potential jail breakers
This one was taken when we went to Hilton Head in September. He was trying his best to be patient, but really - "I just want to go to the beach already."
ooo and it' blurry too - that's a free bonus I'll throw in for ya!
And finally - one I may have shared before but can't remember
even if I did it still rocks
Zach as Adam Savage for Halloween
for the record his shirt says "I reject your reality and substitute my own."
That's it. You know the drill, and if you don't here it is again
Share your pictures from your phone
Visit some (or all!) of the other links
Have Fun!
and that's ~ life on planet caddick