What's on Kris' Phone
Time to find out
What's on Kris' phone this week!
Use the cool button and link up
for real
you know you want to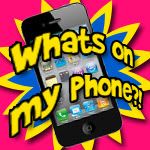 what I usually have every morning on my way to school
it's the breakfast of champions
this was supposed to be a cool shot of the moon
it was full
and orange
but you can't tell from this picture
Our Tiger Den trip to the Fire Department
I figured out how to blur the kids
The adults are on their own!
the following pictures are from the mid to late 80's
they were sent to me from a dear friend
and although these pictures are not of me
they could be!
Damn the 80's rocked!!
and that's...