What's on Kris' Phone 1.11.11
First of all it's 1.11.11 Cool in some weird way. But, onto the phone -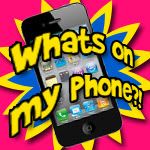 Dear Mr. Mail Person (or machine)
You took the time to stick these stickers on this Christmas Card - you couldn't find it in your heart to just FORWARD the dang thing? Really?
You printed the forwarding address on it too - sheesh
for some reason I couldn't just blur the address - so you get the little sticker coverings instead
This is my checkity check check engine light
It was nice enough to help celebrate the new year by turning on
No one knows why it's on
But I do
The car is paid off - think about it
My to-do list
follow the advice at the bottom
always
you never get to the stuff at the bottom of the list
just sayin....
What was in my purse when I went to the all day orientation
What I actually did with myself during said orientation
A note from school we don't see very often
and yes the words were printed at the top - they always are
but this is still the first time he hasn't been counted down for spelling
I guess that threat that he will only be able to eat, sleep, and read really paid off
And finally
meet my newest grand nephew
who from here on out is just 'my nephew'
Now, get your butt over to Jessica at the
Lowe Family News
and link up!
and that's...