Planet Caddick - What's on my Phone Tuesday
Time for the weekly edition of What's on My Phone! Make sure you hook up with Jessica at
The Lowe Family News
and get in on the fun!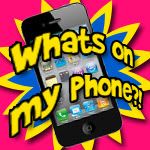 Did ya know Krispy Kreme's have 0 grams Trans Fat
That makes them fat free!
Another shot of my newest chunkster nephew!
He's too stinkin' cute
Props to my niece for making such cute kids!
I've found a new respect for those moms who can take pictures in the mirror and have them look incredible! I learned a few things about 'mirror' pictures this week
First - take everything off the counter
laying it down doesn't make it go away
Don't make concentration faces when you're snapping the picture
or look down
or hold the phone right up there
When all else fails just have your kid take the picture
also, how crappy your pictures turned out has no bearing on how your team does
Here is a another cutie -
of course, made by my niece
told you she makes cute kids!
and that's...