Meet Me on Monday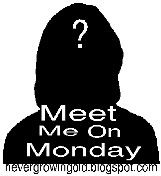 Today I decided to join in the Meet Me on Monday blog hop. It's hosted by Java at
Never Growing Old
. I love her blog - so I figured why not? If you get the chance read some of her posts.
So here's how it works - she asks questions, you answer then you link up. Here are her questions for the week.
1. Do you like your ice cream in a dish, waffle cone, pretzel cone, sugar cone or cake cone?
2. Do you read the newspaper daily?
3. Marinara or meat sauce?
4. Last time you cried?
5. What word/phrase do you find really annoying?
My answers:
1. I like my ice cream in a dish, with Hershey's Special Dark Chocolate Syrup.
2. I don't read the newspaper. Sometimes I get news on the internet, sometimes local news, but I usually don't watch (or read) the news at all.
3. Meat sauce - no doubt
4. Yesterday when I watched this video clip you'd have to be completely heartless not to. Well, at least I think so!!
5. Hmm I don't know if I have a phrase that drives me up the wall. I'm pretty good at blocking stuff out!
So, if you'd like to read some of the other blogs in the hop or join in yourself, link yourself up and have fun!
and that's...