Today Meet..
I honestly can't remember how I came across her blog
She makes puke and potty training not only interesting
but incredibly hi-stare-i-cal
She also does a Tuesday Link Up called
She started it because "it's my blog and I can"
If you already know her in blog world

*awesome*
If you already know her in the real world

*jealous*
And now here is my contribution to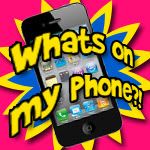 We got some new furniture four days before Christmas!
It includes all the standard stuff -
The bonus of this picture is it includes the three men who mean the most to me ~ My Daddy, My Husband, and My Son
A rare photographic opportunity
If everything works out this is where I will start classes on January 10th
yes, as usual, lame pictures abound on my phone!
This year I talked Zach into decorating the plain sugar cookies for Santa ~
I felt he needed a change and thankfully, Zach agreed
I also talked Erik into KFC because I was lazy and didn't want to cook
What should have been another rare photographic opportunity
but my stupid phone made a noise and he looked up
so did Erik, while eating
And proof that my niece Emma really belongs in this family
I think there are pictures from every generation with our mouths open showing our food
cuz we're classy like that
She's celebrating her first birthday
Don't forget to link up and have fun!
And that's ~ Life on Planet Caddick